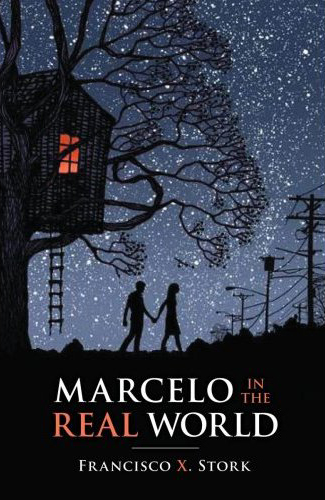 It's sure hard to forget a good book. Recently, I picked up Marcelo in the Real World by Francisco X. Stork again and remembered just how good a read it is. It's funny, but what initially attracted me to this book was what brought me back to it again: the cover art. While browsing the teen bookshelves at my local public library, I found myself intrigued once again by the star-filled sky and tree house silhouette with two figures walking into the darkness. In contrast to bright, colorful and glitzy covers of Chic lit and manga titles, this one just says, "Read me, I'm special."
Marcelo is Marcelo Sandoval, a 17-year old with Asperger's-like characteristics. Actually the word "Asperger" doesn't even appear in the novel, and I like that Stork broaches the subject of disability, without it overtaking the novel. We actually get to learn about Marcelo without a particular label. Marcelo hears music inside his head and is fascinated by religion (some of his conversations with an older female Rabbi are worth the read in themselves) – and all the while, it is clear that Marcelo is first and foremost a teenage boy grappling with newness and circumstances that will impact the path of his life forever.  The story's skeleton is a familiar coming-of-age journey throughout the course of a pivotal summer for Marcelo, in which he leaves the safety of his home to work in the mail room of major corporate law firm – his father's law firm to be exact. This definitive move changes his life as he interacts with more people than he has before — people who challenge, intrigue, and complicate his world vision.
This was truly a gem of a book, in my opinion. As a huge fan of The Curious Incident of Dog in the Night-Time, I didn't regret picking this one off the shelf for one minute, and was immediately drawn into the story of Marcelo. His insights are blunt, honest, and true and he is the kind of character that you love to love; the kind of character that you respect for his integrity and wish you could have a conversation with. I like how this book inverts our sense of "normalcy" as we get inside the mind of someone with a developmental disability. I highly recommend this book to anyone who questions the existence of quality YA lit.
[This book was a YALSA Top Ten Best Book of 2010; it also received a 2010 Schneider Family Book Award.]
– Cristina E. Mitra, currently reading The Hobbit by J.R.R. Tolkien
The following two tabs change content below.
Latest posts by Cristina Mitra (see all)