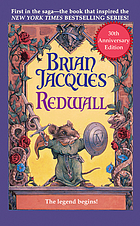 Monday morning, I was very sad to hear on the radio that author Brian Jacques had passed away at the age of 71.  I remember fondly, discovering the Redwall series when I was a child, following the adventures of Muriel, Martin and others.  Although they were mice, their struggles and challenges felt so personal to me, each one became a friend.  Jacques made the animals of his books come alive to the reader.  He changed the way that children looked at animals and the world around them.
Jacques' final Redwall book, The Rogue Crew, will be released May 3, 2011 but a legacy of other writers follow in his stead.  Authors who use the same anthropomorphic storytelling will continue to dazzle readers:
Erin Hunter: A pseudonym for three authors and an editor who work together to create works of fiction, this name was made famous by the Warriors series about the adventures of four clans of wild cats.  The group has also created another series of books, Seekers, following four bear cubs looking for their own place in the world.  The authors were heavily influenced by Jacques and even chose the name "Hunter" to be closer to him on the shelf.
David Clement-Davies: Clement-Davies' first book Fire Bringer, is the story of Rannoch, a red deer, born of a prophesy in ancient Scotland who tries to unite the forest.  His second two books (The Sight, Fell) follow a pack of wolves in Transylvania, trying to survive the harsh winters and the fear surrounding their new neighbors, humans.
Clare Bell: Bell began writing around the same time as Jacques and is best known for her series, The Named, whose main characters are large prehistoric cats.  She continues to write and even shared a novellette in the series through Twitter posts in 2009.
Although Jacques will be sorely missed, readers can look forward to more great anthropomorphic fiction from these authors.
Kate Pickett – currently reading Stolen by Lucy Christopher
The following two tabs change content below.
Kate McNair
Kate is the Young Adult Librarian for the Johnson County Library in the Kansas City metro area. She loves, playing roller derby, crafting and being surprised!
Latest posts by Kate McNair (see all)