Okay, so there aren't that many people who would recognize this quintessential line from my least favorite song in Carousel (even though I find myself singing it for thirty days straight every year).  But, it is June, and June is the month for musicals!  (Not really, but it's when I get in the musical mood, at least).  It's the month of the Tony Awards! (June 12, for anyone interested.)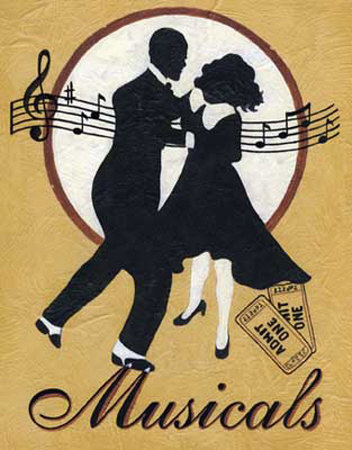 It may not be true for everyone, but musicals have always  had an impact on my life–how I listen to music, how I watch movies, how I read.   There are some books, for example, that I never had any interest in reading before I saw/heard the musicals–The Phantom of the Opera, Wicked, Tevye's Daughters (Fiddler on the Roof), Ragtime.  There are those I tried to read (cough*Les Miserables*cough) but never finished.  There were the books I adored that were turned into musicals–Legally Blonde, Jane Eyre, The Secret Garden, The Scarlet Pimpernel.  I even tried to write a musical once (my rendition of "Netherfield is Let at Last" sounded suspiciously like "A Rumor in Saint Petersburg" from Anastasia).
Musicals also seem to have an important part in some of our favorite books, too.  Who could forget Tiny Cooper's brilliant production of his own autobiographical musical in BFYA 2011 Will Grayson, Will Grayson? Or the production of West Side Story that catalyzes the relationship in My Phantom Love?   Starbucks: The Musical?
And just as a random side note, Harry Potter's in a musical, too–well Daniel Radcliffe is, anyway. Check out the original book that inspired Frank Loesser to write How To Succeed in Business Without Really Trying, and if you're in New York, go see the play!
There are four awesome movie musicals on this year's YALSA Fabulous Films for Young Adults list (Chicago, Grease, Hairspray (the old one), and The Wiz).  BUT THAT'S NOT THE BEST PART!  Next year's topic for FFYA is "Song and Dance"!  There are already some great titles nominated (not all musical, but musically themed), but now's your change to nominate something yourself!  And maybe even pull one or two titles of the list that you haven't seen, and go to the library or Netflix or Blockbuster or iTunes and see if you're interested (might I suggest Dr. Horrible's Sing-Along Blog?  Or Repo! The Genetic Opera?  Newsies.  Definitely Newsies).
June is bustin' out all over…and ringing in my ears.  So grab a book that a musical has led you to, or a song that was mentioned in a book, and welcome the coming summer.
*.*.*
–Jessica Pryde, Currently reading City of Ashes by Cassandra Clare and heading home to carry the banner with Christian Bale and the Newsies.
The following two tabs change content below.
Latest posts by Jessica Pryde (see all)