Ever wanted to pick the brain of a teen reader? I was lucky enough to get to do just that in this interview! Luke is 17 and graciously agreed to share his thoughts on books and reading. Find out more about what makes him tick by following him on Figment.
Becky: Would you define yourself as a reader? Why do you think you enjoy reading?
Luke: I am a person who reads for enjoyment. I hate reading for school because I have to look for a deeper meaning in things. I want to be able to just sit back, relax, and enjoy the story. I think that I enjoy reading for a variety of reasons. I love feeling understood through the characters. I love the entertainment reading provides. It sometimes helps me to feel like I'm not alone.
B: What is the best book you've ever read? What made it so great?
L: There are so many books that I cannot choose a single best book. But one of the best is definitely Thirteen Reasons Why. It's such an important book for kids to read. It really shows the effect of little things. I read it at a time in my life when little things like what happened to Hannah were happening to me and I completely empathized for her. Nothing to the magnitude of what happened in the book, but it still felt good to know I wasn't alone and that others went through the same thing. 
[Librarian interjection: Thirteen Reasons Why has gotten accolades from teens and librarians alike — in 2008, YALSA selected it as a Best Book for Young Adults, a Quick Pick for Reluctant Young Adult Readers, and a Selected Audiobook for Young Adults.]
B: What is the worst book you've ever read? Why was it so awful?
L: I prefer not to remember most books that were so terrible, but I have got to say that The Grapes of Wrath has got to take the title for the worst book ever written. It was boring, difficult to understand, and I hated all the characters. There was not a single person in that book that I liked and, for all I cared, they could have all died on the way to California. All the better, actually, because then the book would have been shorter.
B: How do you feel about series books? Do you have a favorite series?
L: I love the concept of a series. It's great to come back to the same characters time after time. Though I feel like multiple books should complement the storyline. An author should not write a single novel and then, if that's successful, come up with a sequel and series. Those kinds of series usually don't turn out well. If the author plans from the beginning to write a series, such as Harry Potter, it always turns out to be much better. My favorite series is definitely Harry Potter. J.K. Rowling never wastes a word in an entire 700 page book. It's simply incredible. It's captivating, it's well-written, and you can't help but love all the characters (except Voldemort, obviously).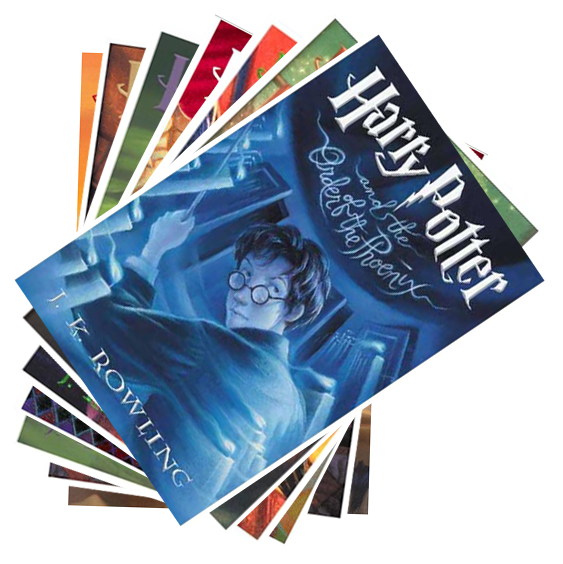 B: How do you decide what to read next for fun? Do you use reviews or online sources, friend recommendations, or do you like to browse the actual books?
L: To figure out what to read for fun, I usually get recommendations from friends and see what my favorite authors have written lately. I have enough authors that I follow that they'll usually have something new out. I also love browsing the new section at Barnes & Noble to get suggestions.
B: Have you ever listened to a book on CD or Playaway?
L: I have attempted to listen to a book on CD, never a Playaway though. I don't find a story as exciting when I hear it. I am just a visual person. I need to see things.
B: Have you ever read an e-book? Do you have an e-reader, and if not, would you be interested in one?
L: I have not read an e-book and I do not have an e-reader, but my Dad just got one for Father's Day and it looks really cool. I'm very tempted to test it out someday. Maybe I'm old fashioned, but I still like having the book in my hands.

B: Have you ever read a book more than once?
L: Psh! Have I ever read a book more than once? Of course! :)
Some of the best books, I've read over and over. Some books I've read at least a handful of times, if not a dozen. Some authors just have such a way with words that I come back to the same story time after time, even though I know what's going to happen.
B: Have you ever saved up your money to buy your own copy of a book?
L: When I was younger, I did have to save up to buy my own copy of a book. Now that I'm older, I always have enough money to buy a book if I'd like. I just find it easier to borrow books from the library because I'm never motivated to read a book if I own it…I always think, "I can read that later." With library books, I have a deadline that must be met.
B: Do you have a favorite movie adaptation of a book? Is there a book you'd love to see made into a movie?
L: The Harry Potter movies are the best book-to-movie adaptions I've ever seen. Every other movie that was a book has disappointed me somehow. Harry Potter rarely disappoints. And, when they do, they make up for it somehow. I'd love to see movie adaptions of a lot of my favorite books. Thirteen Reasons Why and If I Stay are both being made into movies (the former starring Selena Gomez :D). I REALLY want to see the On the Run series by Gordon Korman made into a movie or maybe two movies, but, sadly, there are no plans for that at this time.
B: Recent trends in teen literature have included vampires (hello, Twilight) and dystopian futures (thanks to The Hunger Games). Has the popularity of these series enticed you to read them? What do you think will be the next "big thing" in books for teens?
L: Yes, it has enticed me to read them, but just because they're popular doesn't mean they're good. I hated the Twilight series after the first book. I loved The Hunger Games, but still have yet to read Catching Fire or Mockingjay. I'm terrible at predicting trends in books, but I feel like Jo Knowles deserves more attention. Her first two books, Lessons from a Dead Girl [2008 Quick Pick] and Jumping Off Swings [2010 BBYA & Quick Pick],

were absolutely phenomenal. They are about serious issues and they don't sugar-coat them. They are completely serious and show the real effects of issues such as teen pregnancy and child sexual abuse. She has a new book, called Pearl, coming out in July and I cannot wait to read it! Everyone needs to read her books.
B: You are a writer yourself. How does reading influence your writing? Do you think writing, in turn, has influenced your reading?
L: I think writing and reading are interchangeable, really. They affect each other. If I read something that I like, I try to emulate it in my writing. If I read something I detest, I make sure I don't get anywhere close to it while I write. In turn, the more I learn about writing and the more I write, the more critical I am while I read. I find myself thinking about what I would have done and how the author shouldn't have made HIM kiss HER and she should have slapped him instead (or something like that).
B: Thank you so much for sharing your thoughts!
— Becky O'Neil, currently reading Wonderstruck, by Brian Selznick
The following two tabs change content below.
Rebecca O'Neil
Rebecca (Becky) is a Collection Development Librarian at the Westerville Public Library in Ohio. Her interests include art, keeping the largest to-read list Goodreads has ever known, and searching for a dash of magical realism in everything.
Latest posts by Rebecca O'Neil (see all)