I first saw the book because it was looking at me. Sure, later it made the BBYA list, won the Caldecott, and got snapped up by Martin Scorcese, but I first picked up The Invention of Hugo Cabret because a child's eye was drawn in soft pencil on the spine, and passing it on the shelf felt an awful lot like being watched by a curious onlooker peeking between the books. As soon as I read it, I was a convert. Brian Selznick's method of telling the same story in alternating visual and prose sequences was new and unusual, and I was recommending the book to anyone who would listen. Of course, it wasn't long (sometimes less than an hour, in fact) before those same readers were back, clutching the book with stars in their eyes. "I love this book! What ELSE do you have like this??"
That was a tough question at the time, even for an art nerd like me, who'd been geeking out over the concept of visual storytelling since reading Understanding Comics: The Invisible Art (an Outstanding Book for the College Bound). Graphic novels and comics were more popular and appreciated than ever, but Hugo resisted categorization, giving a whole new breadth to the words-and-pictures spectrum of storytelling. Quite simply, there wasn't anything else just like it, though many other titles continued to flesh out the spectrum. Teen fans looking for thought-provoking stories might enjoy picture books for older readers, such as Woolvs in the Sitee or The Red Tree. Silent-film buffs would likely appreciate the wordless brilliance of Shaun Tan's The Arrival.
Readers who liked to imagine the stories behind the pictures would have a field day with The Mysteries of Harris Burdick and Twice Told: Original Stories Inspired by Original Artwork. And those who preferred the strange, sad, and different wouldn't want to miss the Dave Almond/Dave McKean offering The Savage.
Recently (no doubt thanks to the ground broken by Hugo), there have been even more options for readers who like to see their stories, but aren't necessarily huge graphic novel fans. Scott Westerfeld's Leviathan series is intricately illustrated in an old-fashioned, full-page style by Keith Thompson. Picture the Dead offers illustrated scrapbooks and photo albums to deepen the story told in the prose, much as Countdown does with historical ephemera. Lynda Barry uses her signature sketchbook/collage style to coach teens in their own writing and drawing exercises in What It Is and Picture This. And super-creepy (real!) photos are used to great effect in Miss Peregrine's Home for Peculiar Children.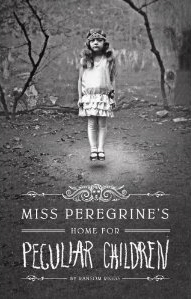 Of course, if you've been lucky enough to get your hands on an ARC of Wonderstruck, you know that nothing will satisfy the Hugo fans more than the newest book by Brian Selznick himself. But when it's flown off your shelves, as it surely will, you can be sure to have some additional visual titles in your back pocket. Got any favorites that I've missed? Share them in the comments!
–Becky O'Neil, currently reading Daughter of Smoke and Bone, by Laini Taylor
The following two tabs change content below.
Rebecca O'Neil
Rebecca (Becky) is a Collection Development Librarian at the Westerville Public Library in Ohio. Her interests include art, keeping the largest to-read list Goodreads has ever known, and searching for a dash of magical realism in everything.
Latest posts by Rebecca O'Neil (see all)