I admit I'm easy to spook. I startle at random things and you might even think of me as jumpy.  I tend to shy away from haunted hay rides, costume parties and people who actually like practical jokes (I never think rubber spiders are funny, ever). Despite my quirks, I am drawn to scary mysteries. I have been known to so badly frighten myself with fiction that I won't take the dog out after dark. Admittedly I am the same way when I watch scary movies: I bury my face in my hands or hide behind a pillow, but do I just turn the movie off? Of course not. No matter how badly something scares me in a novel I just keep coming back for more. Thankfully YALSA's 2011 Popular Paperbacks for Young Adults booklist Thrillers and Killers is full of suggestions sure to give you the shivers, the willies and the creeps. I think what terrifies me the most about these spooky suggestions is that the monsters aren't Bigfoot or Nessie; they are real people. They could be your postman, your neighbor or your best friend. So get your flashlight and pull the covers up of your head.
Jennifer Donnelly's A Northern Light (a 2004 Michael L. Printz Honor Book) is a subtle mystery; the scary and the spooky sneak up on you slowly while you are concentrating so much on the who-dun-it of a murder that you aren't paying so much attention to other things. Mattie just wants a change from her routine of housework. She ponders why book characters are more important to some people than the real folk all around her. Mattie too is blind to the evil in North Woods (she doubts that Lucifer visits) and spends a lot of time focused on her books and vocabulary. Just like in horror films where you feel compelled to yell advice like "Don't go in there!" I was baffled at how Mattie is unaware of the peril all around her.
Dead Girls Don't Write Letters by Gail Giles (a 2004 Quick Pick for Reluctant Readers) is like a nightmare, the kind where you know you are dreaming but you can't wake up but when you do you are yelling in terror. Sunny is tormented by her dead sister Jazz, but its not Jasmine's ghost that's got Sunny on edge. A girl who Sunny used to love but now scares her to death is living in her house. Where is the journal with the answers? What really happened in that fire? What I really enjoyed was just when I was so scared and confused that I wanted to curl into a ball, Gail Giles lays a more terror on me. Toward the end Sunny is told, "But you want to know if she's dangerous? Yes, she certainly is" (p. 122). Thank you Gail Giles, I may never sleep again.
Billed as a psychological thriller, The Missing Girl by Norma Fox Mazer (a 2009 Best Book for Young Adults) starts with a heavy dose of the weird that only picks up more strangeness as the plot moves along. Alternating between several viewpoints, I felt immediately unsettled because I wasn't always sure who was talking. You slowly learn about the five sisters and one man, a seemingly ordinary man. Beauty outlines leaving her large family and how the lives of Mim, Faithful, Fancy and Autumn will change when she gets out of Dodge, or in this case the tiny, stifling town of Mallory. My uneasiness grew until I felt queasy. Each girl lives with a label but one girl has an extra description known only to the man, she is a target. Even after the kidnapping, each person's differing response to the absence was frustrating and scary. As the book progressed, I felt fear creeping in. How can no one see that this adult is wrong somehow?  What if I went missing an no one noticed? I was terrified but persistent–I had to know what happened at the end. Did anyone go to jail? Did anyone get to go home? Did anyone, including me, learn to be safer?
There are nine novels so far in the Pretty Little Liars series by Sara Shepard. I was hooked with first novel that made me a raging paranoid. Four girls–Aria, Hannah, Emily and Spencer–have more secrets than your average socialites. Stalked via their cellphones, the foursome, dubbed the pretty little liars, are blackmailed into revealing their parts in the disappearance of a friend years before.  As more clues are revealed by mysterious menace, A, the mood of the novel grows somber and the setting seems permanently dark and foreboding. It turns out that even with all the information the girls have, it's never enough to keep them safe, nor to show them who their true friends are. I loved how every character was a potential threat, and my mind was on overdrive analyzing everyone's intentions. I am eagerly awaiting the December release of book 10, Ruthless. In the meantime I'll be watching all my neighbors for signs of suspicious activity.
[youtube http://www.youtube.com/watch?v=fBJbHranLaQ?rel=0]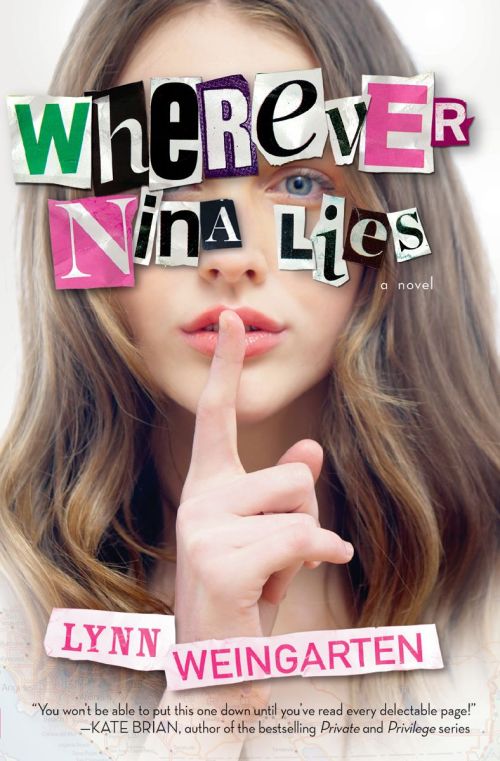 I saved my favorite for last: Wherever Nina Lies by Lynn Weingarten is among the 2011 Top Ten Popular Paperbacks for Young Adults.  Ellie's hunt for her missing sister Nina is quite nerve-wracking; as the story about Nina's life unfolds, Ellie gets closer and closer to the same danger. Can Nina learn the truth and stay alive to share it with their mother? This is a fantastic mystery made all the more scary as the plot seems to follow articles from our daily news about people disappearing without a trace. It's so well written and intricate that when you get to the end, you'll have to read it again just to find all the clues you didn't see the first time. I really enjoyed this creepy road trip and the art interspersed between chapters. My biggest issue with the book is that it's really hard to describe without giving the ending away. I feel like Hagrid in the first Harry Potter movie where he says, "I shouldn't have told you that!"Books like Wherever Nina Lies remind me that sometimes the scariest monsters are humans, and sometimes they are right behind you.
If you plan on reading all of these mystery novels one after another, you may want to prepare your friends and family. Inform those close to you that you may scream if the phone rings on a quiet evening, you may by booby trap your bedroom, and sneaking up behind you may result in defensive martial arts maneuvers.
— Laura C. Perenic is reading Luminous by Dawn Metcalf
The following two tabs change content below.
Latest posts by Laura Perenic (see all)