Every November 11th, the United States celebrates Veterans Day. The holiday honors living veterans as well as those who gave their lives in service to their country. According to Wikipedia, there are almost 25 million veterans living in the US today. In honor of Veterans Day, I've compiled a list of great young adult reads that depict life as a soldier or the consequences of war. These novels cover a huge range of American conflicts, from the Revolutionary War to the current conflict in Iraq. They portray battles and life as a soldier well as the after effects of war. This is just small sample of the great books out there!
The Things A Brother Knows by Dana Reinhardt
This book, one of YALSA's 2011 Top Ten Best Fiction for Young Adults, is a contemporary novel that tells the story of two brothers. The older borther, Boaz, has just returned home after a long tour of duty in the Middle East. He's a hero to people in his hometown, but his younger brother Levi can see that Boaz has changed. He's not the same cheerful, charming guy he was when he enlisted three years ago. When Boaz disappears, Levi goes after him, vowing to bring him home for good this time.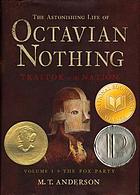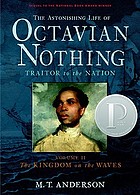 The Astonishing Life of Octavian Nothing, Traitor to the Nation: Vol. 1, The Pox Party and Vol. 2, The Kingdom on the Waves by M. T. Anderson
Astonishing is just the word for this beautiful, complex series. Octavian is raised by a group of scholars living together in colonial Boston. Although he lives a life of luxury, Octavian isn't truly free. As he reaches adolescence, he begins to understand the horrifying true nature of experiments conducted by the scholars at College of Lucidity; these experiments and their consequences change his opinion about the world around him forever. The novels are set in revolutionary Boston, and the lives of Octavian and the other characters are entangled in the events of the Revolutionary War. Both novels are Printz honor titles (2007 and 2008).
The Things They Carried by Tim O'Brien
The Things They Carried is a modern classic, and is considered by many to be one of the definitive novels about the Vietnam War. It's an engaging, appalling, heartbreaking collection of interwoven short stories that blends fact and fiction. It's not usually marketed as YA, but the protagonist, like many of the soldiers who fought in Vietnam, is still a teenager. It's featured on many summer reading lists, but it's a worthwhile read even if it's not assigned reading.
After the Dancing Days by Margaret I. Rostkowski
Annie, the teenaged protagonist of this novel, is coming to grips with the consequences of World War I. Her favorite uncle died in the war, and every day her father treats young men who came home with debilitating injuries. Annie befriends one of his patients, a young man named Andrew, and together they struggle to come to terms with the many ways the war has changed their lives.
The War to End All Wars: World War I by Russell Freedman
If fiction's not your thing, this book is a fascinating non-fiction introduction to World War I. Freedman uses photos and historical documents to explain the political motivations behind the war, but he doesn't stop there. The War to End All Wars also examines the evolution of military technology, much of which was developed during WW I, and explores the day-to-day life of soldiers in the trenches. It's a well-written, thorough, and very readable history.
The Dark Game: True Spy Stories by Paul B. Janeckzo
In every war, both sides depend on spies for intelligence; information about the enemy's plans, movements, weapons, and more can mean the difference between victory and defeat. In this engaging book, Janeckzo tells true stories of spies in American conflicts throughout history. From famous traitors like Benedict Arnold and famous heroes like the Native American communication teams of WWII to little-known figures from those wars and others, Janeckzo tells stories of intrigue, secrecy, and danger.
Did I miss any of your favorite ya books about soldiers and war? Feel free to make more suggestions in the comments!
— Emily Calkins, currently reading Inside Out and Back Again by Tanhha Lai
The following two tabs change content below.
Latest posts by Emily Calkins (see all)