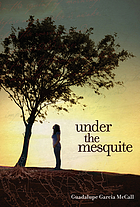 This is the last post about the finalists for the William C. Morris Award, and it's an exciting one! Guadalupe Garcia McCall, whose lovely coming-of-age novel Under the Mesquite is one of five finalists, joins us for an interview about her book, being a Morris finalist, and what's next for her. Ms. McCall will be at the Morris Award and Nonfiction event tomorrow, so if you're at ALA Midwinter (you lucky thing!) be sure to stop by and meet her!
Congratulations on Under the Mesquite being named a William C. Morris Debut YA Award Finalist! Can you tell us how you found that that you were on the shortlist? How does it feel to have your first novel recognized by ALA?
I found out about the Morris Finalists from my editor, Emily Hazel. I was in class, in the middle of teaching revision techniques to my 7th grade students, when my phone chirped. I knew I had an email or a message, but I didn't check my phone until the break, two periods later. That's when I saw it. "Exciting News" the tagline read, and it most certainly was. Exciting and totally unexpected. It's quite overwhelming in a shocked-deliriously-happy kind of way. More than anything, I feel very blessed.
Although Under the Mesquite is your first novel, you've previously published some poetry. I'm curious to now if any of the pieces in Under the Mesquite (which is a novel in verse) started out as standalone pieces. How did you move from writing individual poems to writing a whole novel in verse?
Well, it was quite a long process. I constructed the novel using poems from a small collection of poetry I had been sending out to publishers in 2006. Looking back, very few of the original poems ended up in the final manuscript. Every poem in part II is from the original collection, but most of the poems in the other sections were added as we moved along in the process. My editor, Emily, and I worked on several revisions before it became a cohesive, young adult novel we were both happy to call a book.
It was a good year for young adult and middle grade novels in verse! Not only are you a finalist for the Morris Award, but Thanhha Lai's Inside Out and Back Again won the National Book Award. Her book is also about a family of recent immigrants. Do you think the novel in verse lends itself to particular kinds of stories?
I think novels in verse are perfect vehicles to tell poignant, intimate stories, especially in first person point of view. Poetry doesn't hide anything. The poet doesn't have the luxury of access, so everything that is said has to hit home. Poetry's abridged form, its reluctance to over-elaborate, to hyperbolize, as well its moving nature appeals to young adults because it lives where they live. Poetry gives young people what they are looking for: the raw, bare facts of life—no games, just reality, emotional and heartbreaking, but also beautifully true.
One of my favorite things about Under the Mesquite was Lupita's relationship with her siblings. They fight and disobey her when she's in charge, but they're also some of her closest friends and greatest allies; those relationships rang very true for me. Do you have siblings? How much is Lupita's relationship with her family based on your own family?
I have five sisters, cinco hermanitas, and two brothers, just like Lupita. I have to admit I did use a lot of personal experiences with my own siblings and my feelings for them in the novel. I fictionalized events and changed names to protect the innocent, but the emotional connections and the sibling rivalries are all deeply steeped in memories from my childhood.
Last spring, I saw you in Austin with the wonderful Diversity in YA tour and your cultural heritage plays a huge role in Under the Mesquite. What's your favorite thing about writing Mexican-American characters?
I love writing Mexican-American characters because it's part of who I am, but it is not all that I am, and I want to show that in books. I don't see enough books with Mexican-American characters in bookstores. Another reason I love writing about Mexican-Americans is because we have strong roots and strong points of view, but we have the same fears, the same dreams, the same universal struggles as all other cultures, and I want to bring our humanity to the forefront, depict us as human beings without detracting from our culture, our uniqueness.
Last, my favorite question! What are you working on now and what can we expect to see next from you?
I am working with Stacy Whitman at TU Books on a YA novel entitled FIVE LITTLE SISTERS due for publication in the Fall. It's a retelling of the Odyssey. In FIVE LITTLE SISTERS, Odilia and her four sisters, Juanita, Velia, Delia, and Pita embark on a journey to return a drowned man to his family in El Sacrificio, Coahuila, Mexico. However, they must face and defeat mythological creatures from Mexican follklore in order to get back home.
Next month, when all the wonder and awe of the Morris Award celebration has faded into a joyful memory, I am going to sit down and finish another manuscript I have waiting in the wings (it's almost complete). It's a historical YA tentatively titled, Joaquin, The Jack of Hearts, set during the Mexican Revolution and the skirmishes following the drafting of the Plan of San Diego in the Nueces Strip on the Southern tip of Texas.
A huge thanks to Ms. McCall for taking time to talk to us, and congratulations to all of great debut authors in the finalist list!
-Emily Calkins, currently reading Americus and waiting with bated breath for all of Monday's announcements!
The following two tabs change content below.
Latest posts by Emily Calkins (see all)