Jane Austen was born 238 years ago today in Steventon, England. Her work has grown more popular, even though she only finished six novels. Who could forget the masterpiece Clueless (based on Emma)?
With so many spin-offs, prequels, and modernizations of her work, we're celebrating her today with a list of teen titles.
Titles inspired by Pride and Prejudice:
Enthusiasm by Polly Shulman (2013 Popular Paperbacks for Young Adults)
When Julie's best friend geeks out, she goes all in. Ashleigh's decided that Julie's love of Pride and Prejudice is the next big thing. Soon Ashleigh's convinced Julie to wear a vintage gown while sneaking into a dance at the local all boys prep school. Could they find true love waiting for them?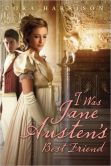 I was Jane Austen's Best Friend by Cora Harrison
Jane's cousin Jenny chronicles their daily routine, where we get an in-depth look into the Austen's way of life. When Jane falls deathly ill, Jenny sneaks out of school to mail a letter to Jane's mother. While outside, she meets a boy and fancies herself in love.
Pies and Prejudice by Heather Vogel Frederick
The 4th book in the Mother-Daughter Book Club series takes Emma and her family to England for her first year of high school with a house swap. To make the others feel included, the club reads Pride and Prejudice and chat via video. The remaining members of the club at home start a pie business in order to bring Emma back home for spring vacation. The family who swapped houses with Emma's family has two teen boys that act just like Bingley and Darcy.
Prada and Prejudice by Mandy Hubbard
Callie buys a pair of Prada shoes to impress a pair of popular girls. She doesn't care that the shoes are too big – until she trips and falls. She must have hit her head harder than she imagined because when she wakes up in 1815. After a case of mistaken identity, Callie's taken into a house where she makes numerous mistakes, falls in love, and tries desperately to adapt to a very different life.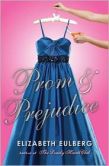 Prom and Prejudice by Elizabeth Eulberg (2013 Popular Paperbacks for Young Adults)
Longbourn Academy is obsessed with prom season –except Lizzie Bennet. She's at the academy on a musical scholarship. Her BFF Jane hopes that Charles will ask her to prom. He's just returned from a semester abroad. She convinces Lizzie to hang out with her, Charles, and Will. Naturally, Will and Lizzie don't get off on the right foot.
Spies and Prejudice by Talia Vance
Strawberry Fields (Berry) works for her father – who's a private investigator. She and her BFF Mary Chris Moss (they bonded in elementary school over weird names) are at a stakeout when they meet the boys – Ryan and Tanner. After Berry leaves the stakeout, she witnesses a handoff of papers with her mother's name on them. Her mother's been dead for 8 years and Berry isn't going to let this go, even if it means destroying everything.
Titles inspired by Sense and Sensibility:
Sass & Serendipity by Jennifer Ziegler
Gabby and Daphne don't have much in common. Daphne's the younger sister – she's romantic, believes the best in people, social, and outgoing. Gabby's the older more responsible sister. She helps run the household, studies constantly to win a scholarship for college, and has one best friend. When their mother goes out of town for job training, the two sisters must learn to live together to survive their mother's absence. Will they ever be able to see eye to eye?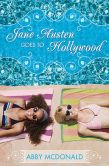 Jane Austen Goes to Hollywood by Abby McDonald
Hallie and Grace Weston's father dies, leaving everything to his new wife. Now they have to move out of their childhood home in San Francisco for Beverly Hills. Shy Grace yearns for her old life and pines for a boy who isn't hers while her sister Hallie finds new friends in a heartbeat.
Dashwood Sisters' Secrets of Love by Rosie Rushton
Ellie, Abby, and Georgie Dashwood's lives are turned upside down when their father dies suddenly from a heart attack. Everything, including their house goes to his new wife and she's asking them to leave their home. They move from London to the country where the practical one, the drama queen, and the tom boy dealing with romance and acclimating to their new situation.
Titles inspired by Persuasion:
Trouble with Flirting by Claire LaZebnik
Franny's not attending the Mansfield Summer Theater Program as an actress – instead, she's helping her aunt (the costume designer) for the summer. Although Franny spends her days sewing – her nights and meal times are free. She finds herself drawn into a group of friends, most of them starting to pair off. As Franny gets to know the group, Harry starts paying attention to her. She's never gotten over her crush on Alex. Even though he has a girlfriend, they have moments together. Will she have to choose between two boys?
Austen-inspired adult reads with YA apeal:
Austenland by Shannon Hale
Bridget Jones' Diary by Helen Fielding
Longbourn by Jo Baker
Mr. Darcy's Diary by Amanda Grange
Pride and Prescience by Carrie Berbis
~ Jennifer Rummel, currently reading Racing Savannah by Miranda Kenneally