With a new movie of Cinderella coming out, it's a great time to round up some book adaptations.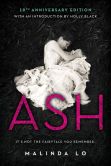 Ash by Malinda Lo (2010 Morris finalist and 2014 Popular Paperbacks for YA Top Ten)
Ash lost both her mother and her father. Now she's stuck in a world with an evil step mother and two wicked step-sisters. She finds solace in the fairy world and with her new friendship with the King's Huntress. Can she find happiness on her own terms?
Before Midnight by Cameron Dokey
Cendrillon's mother dies in childbirth. The death of her mother forces her father to abandon her, leaving her to the care of the housekeeper. Her father remarries and sends his wife and two daughters back to the cottage, without telling her about his daughter. Everything changes once the truth comes out.
Bewitching by Alex Flinn
Kendra can't help coming to someone's rescue, even though she shouldn't, but Emma really needs her help. Emma's stepsister isn't the sweet girl she portrays. Instead Lisette steals everything Emma holds dear. Can Kendra help Emma?  
Bound by Donna Jo Napoli
Xing Xing's father dies leaving her alone with her stepmother who only cares for securing an advantageous marraige for her own daughter. Xing Xing finds her mother's green silk gown and gold slippers. She sneaks out and wears them to a festival where she meets a handsome but unconventional prince.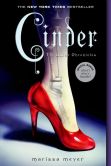 Cinder by Marissa Meyer (2012 Teens' Top Ten and 2013 Best Fiction for YA and 2013 Reader's Choice Book List)
The first in the Lunar Chronicles series, Cinder's part human and part robot. Cinder doesn't remember what happened to her before the age of 11. A stranger wanders into her station at the marketplace looking for a mechanic. To her surprise, it's the Prince in disguise. As a plague sweeps through, Cinder might hold the answers to the future and her past.
Cinderella Ninja Warrior by Maureen McGowan
Cinderella's held captive by her step-mother.  She can take care of herself, perfecting her skills in secret, waiting for the day until she can escape.  A ball will be held with two contests: one beauty and one magical.  Cinderella doesn't care about the beauty contest or meeting the prince, she simply wants to win the magical competition for the wizard training opportunity. She's determined to win her freedom.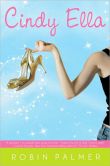 Cindy Ella by Robin Palmer
Cindy isn't popular, but her social life goes from nonexistent to outcast after she writes an anti-prom letter to the school newspaper. She wishes the newspaper would focus on more important issues.  With three people in her corner, Cindy isn't about to back down. Can she still find her happily ever after without attending prom?
Dream Factory by Brad Barkley and Heather Helper
When the actors in Disney World go on strike, Ella's hired to become the next Cinderella.  Ella marries the prince every afternoon at 3 pm. But it isn't the prince she wants to date, it's Luke.
Just Ella by Margaret Petterson Haddix (2005 Popular Paperbacks for YA)
Ella went to the ball and married her prince – but life afterwards isn't happily ever after. The royals try to mold her into a perfect princess with endless rules on etiquette and protocol.  How can she escape this life and find happiness on her own terms.
Add in your favorite Cinderella tales in the comments!
~ Jennifer Rummel currently reading The Wishing Spell by Chris Colfer
The following two tabs change content below.
I'm a YA Librarian who love love loves books and reading. My favorite types of books include mysteries, romance, thrillers, and spy books. I adore crafty books, regency romances, and cozy mysteries. When I'm not reading or talking about books, I love baking, crafting, and watching the Celtics.
Latest posts by Jennifer Rummel (see all)