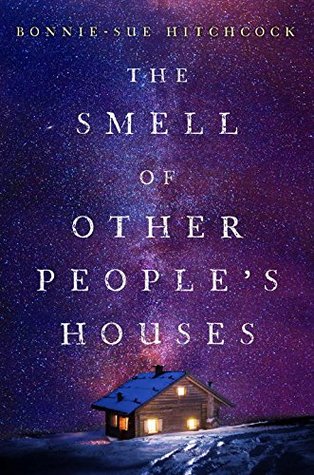 Bonnie-Sue Hitchcock is a finalist for the 2017 William C. Morris award. Her book, The Smell Of Other People's Houses, is told in four points of view of teens living in Alaska in the 1970s. Their individual stories weave together in a satisfying ending that will give readers a sense of another time and culture.
Your background is writing news for radio.  How is your writing process different than when you wrote for news? The biggest difference is not having a daily deadline. Working on something for years rather than days is a totally different thing and I think it takes practice transitioning from one to the other. I still write though, as if each chapter is its own story and use a lot of the skills I used when writing a four minute radio piece. I miss interviewing people and using their own voices, which now feels like cheating after having to create characters out of thin air. (Although I did mine some of my past interviewees for personality traits for my characters.)
It feels like the four point of view characters each represent a different feel or culture of Alaska.  What do you want the reader to learn from this? Yes, I think you're right about that. Alaska is a huge place and each region has its own feel, including differences in climate and culture, so it's difficult for any one book about Alaska to portray the entire state. I chose to focus on the places that I lived throughout my life and depict those places through the kinds of people I knew and had close experiences with. I've heard so many different takeaways from readers about what they got (or didn't get) from this way of telling the story. I just wanted to show how hard it is to generalize the Alaska way of life. Alaska is many things to many people and all of it is true.
Comments closed