Jane Austen was born 238 years ago today in Steventon, England. Her work has grown more popular, even though she only finished six novels. Who could forget the masterpiece Clueless (based on Emma)?
With so many spin-offs, prequels, and modernizations of her work, we're celebrating her today with a list of teen titles.
Titles inspired by Pride and Prejudice:
Enthusiasm by Polly Shulman (2013 Popular Paperbacks for Young Adults)
When Julie's best friend geeks out, she goes all in. Ashleigh's decided that Julie's love of Pride and Prejudice is the next big thing. Soon Ashleigh's convinced Julie to wear a vintage gown while sneaking into a dance at the local all boys prep school. Could they find true love waiting for them?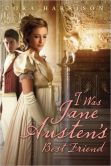 I was Jane Austen's Best Friend by Cora Harrison
Jane's cousin Jenny chronicles their daily routine, where we get an in-depth look into the Austen's way of life. When Jane falls deathly ill, Jenny sneaks out of school to mail a letter to Jane's mother. While outside, she meets a boy and fancies herself in love.
Pies and Prejudice by Heather Vogel Frederick
The 4th book in the Mother-Daughter Book Club series takes Emma and her family to England for her first year of high school with a house swap. To make the others feel included, the club reads Pride and Prejudice and chat via video. The remaining members of the club at home start a pie business in order to bring Emma back home for spring vacation. The family who swapped houses with Emma's family has two teen boys that act just like Bingley and Darcy.