Have you had a chance to take our readers' survey? We'd love your feedback! 
Leah Thomas is a finalist for the 2016 William C. Morris YA Debut Award.  Because You'll Never Meet Me is the story of two boys. One is allergic to electricity,  while the other has a pacemaker. Because of the pacemaker, it would be dangerous for the two to meet.  They become pen pals.  It is a fantastic story of friendship, dealing with bullies, doing the right thing and discovering the biggest mystery of why they are who they are.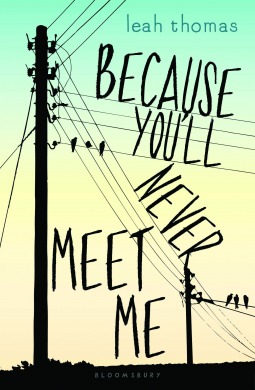 The storyline is unique.  What was the inspiration for the two main characters, Ollie and Moritz?
It would be easy to say that Ollie and Moritz are opposites, but it's not strictly true. I sometimes describe Ollie as the extrovert trapped in the woods and Moritz as the introvert stuck in the city, but they've got so many things in common: unique science fictional ailments, estranged/unknown family members, a tendency towards social ineptitude, an offbeat sense of humor, a deep sense of isolation and loneliness. To me, what made their story worth writing was the thought that these two characters, were they ever to meet in person, might have suffered for it: even without Ollie's whimsical allergy to electricity and Moritz's pacemaker, they're so different in personality that it seems they would only clash. They might have loathed each other.
But we live in an age where friendship can be formed on a thousand different bases. I wrote most of BYNMM while teaching abroad in Taipei, and that taught me how little proximity matters to friendship. Friends can be people you've never met, friends you otherwise might not want to meet, friends you never see. Sometimes this truth feels like the most science fictional aspect of the story, but it's our reality! Amazing. Continue reading 2016 Morris Award Finalists: An Interview With Leah Thomas
Comments closed