March is Women's History Month, celebrated worldwide. In Britain, the Great Reform Act of 1832 excluded all women from voting by specifically changing the word person to male. In 1918, women started to regain voting privileges but it wasn't until 1928 that women over the age of 21 had the same voting rights as men. As a tribute and celebration to all the previous women who have challenged rules, broken rules, and changed the world, here's a list of books throughout Great Britain's history from a woman's perspective.
Ancient Days: (0-1066)
Major Events Include: Rome invades Britain, Rome conquers Wales, Boudica leads rebellion against the Romans, Hadrian's Wall is constructed, Rome withdraws, Anglo and the Saxons arrive looking for a fight, Vikings attack, and the Battle of Hastings occurs.
Books in this time period include:
The Edge on the Sword by Rebecca Tingle (2002 Best Books for Young Adults)
Princess Aethelflaed finds herself reluctantly betrothed to an ally of her father's, in hope that their marriage will bring peace to the land. Betrothed isn't the same as married, and when enemies attack, Aethelflaed will have to stand her ground.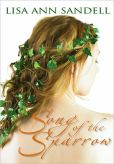 Song of the Sparrow by Lisa Ann Sandell
Elaine of Ascolat, the Lady of Shalott lives with her family in the camps of King Arthur. As the only girl, she finds herself lonely, until Gwynivere arrives. Unfortunately, Gwynivere isn't the type of companion Elaine's been hoping for. Written in a novel in verse, Elaine shares her view of the world of King Arthur.
Middle Ages (1067-1485)
Major Events Include: Oxford University founded, Richard the Lion-hearted enters the Third Crusade, Prince John Signs the Magna Carta, Wales becomes part of Great Britain, Execution of William Wallace, Great European Famine, Hundred Years War, Black Death, and The War of the Roses
Books in this time period include:
Hawksmaid by Kathryn Lasky
Maid Marian (Matty) is the daughter a famous falconer. Matty has her father's gift with the birds and hopes her future lies with them. When King Richard is captured and his brother rises to power, everything changes. She does her best to help Robin Hood (her childhood friend) make sure everyone survives.
Scarlet by A.C. Gaughen
Scarlet keeps her female identity hidden from everyone in Nottinghamshire, except Robin and his friends. When the Sheriff tries to capture the band, she'll do anything to save her friends. 
Wildwing by Emily Whitman
Addie thought education was the way to better herself, but that doesn't prove to be the case. Instead, she's sent into domestic service. It isn't long before she discovers the secret behind the locked door – a time machine. When she tries it out, she's transported into medieval times where she's mistaken for Lady Matilda, who will marry the local lord. Now Addie, pretending to be a lady, learns about duty and the politics of marriage.
Tudors (1485-1603)
Major Events Include: The Church and England break up, Henry VIII rules (marriages: annulled, executed, dead, divorced, executed, widowed), England becomes Catholic again under Mary's rule, Elizabeth rules, Shakespeare, and the fight with the Spanish Armada
Books in this time period include:
Assassin by Grace Cavendish
In the Tudor court, Lady Grace is discovering that nothing is what it seems. Her mother, a trusted agent for the Queen, died protecting her majesty. Before she died, she made the Queen promise to find a suitable suitor for her daughter. The Queen invites three men to the castle, where Lady Grace must pick one. Unfortunately the one she picks is accused of murder. For Lady Grace, the murder doesn't add up and she works hard to prove his innocence.
Mary, Bloody Mary by Carolyn Meyer (2000 Top Ten Best Books for Young Adults)
Mary Tudor, the daughter of Henry VIII and Catherine of Aragon, did not lead a charmed life. When her father has his marriage to her mother annulled, she no longer has a claim to the throne. Her pampered days over, instead she spends her time taking care of her half-sister Elizabeth and catering to the whims of her evil step-mother. Does this cruel childhood treatment help create the tyrant history knows her to be?
Maid of Secrets by Jennifer McGowen
Meg steals from the wrong pocket. When she's caught, she's given a choice: work for the Queen or rot in a dungeon cell while her friends are hunted down and killed. Without much of a choice, Meg chooses to work for the Queen– as a spy. As she's given her first assignment, Meg comes to understand just what's at stake. Someone's plotting against the Queen, stirring up trouble at court, and someone wants to force the Queen to marry so a male will rule by her side. Meg's job is to locate the source of the trouble; but it's hard to root out evil when she doesn't know who she can trust.
The Other Countess by Eve Edwards
Lady Eleanor Rodriguez, Countess of San Jaime, hasn't had an easy life living with her father the alchemist. He's much more interested in his profession and his experiences than he is in buying the proper clothes for her, sending her to school, or even putting a roof over her head. Now, after a stroke of good luck, Ellie finds herself at Queen Elizabeth's court. There she meets Lady Jane Perceval, whose wealth is reflected in her clothing and her manners. After an entertaining introduction where they talk about the uselessness of their clothing, they become fast friends. Could a marriage come between them?
1603- 1799
Major Events Include: Queen Elizabeth dies, William Shakespeare dies, King James Bible is published, Jamestown is founded in the New World, House of Burgesses starts democracy in Virginia, Mayflower sets sail for the New World, Slave trade begins, Great Fire of London destroys almost 2/3 of the city, Great Plague, Seven Years War, First Cotton Mill opens, and the American War of Independence
Books in this time period include:
At the Sign of the Sugar Plum by Mary Hooper
Hannah's excited to go to London, even if it is just to help her sister in her candy shop. She loves the sounds and the excitement of the city. Sarah's shocked to see her sister, because she had mailed her a letter warning her to stay home because of the Plague. Now that she's arrived, both girls try to get along as best as they can, helping their friends and neighbors. Neither of them thought the plague would last this long or take so many lives.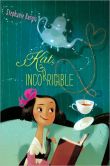 Kat, Incorrigible by Stephanie Burgis
Kat's a tomboy stuck in Regency England with too many rules, especially since she just discovered her inherited magical powers. Her older sister's given in to the idea that she must do her best to restore the family's good name – even if it means marrying someone horrible. Kat's not about to let her sister ruin her life. She's ready to stop the wedding by any means necessary.
La Petite Four by Regina Scott
Emily and her three best friends can't wait for their season debut. They've spent hours talking about their dresses, figuring out potential suitors, and what it will be like. Now, everything's ruined when she becomes engaged to Lord Robert before her first ball. Convinced that Lord Robert's a jewel thief; can she convince her father to call off the marriage?
1800s
Major Events Include: Battle of Trafalgar, Napoleon, Waterloo, Rule of Queen Victoria, British Empire becomes the major super power, Irish Potato Famine, and Women earn rights to keep their property after marriage
Books in this time period include:
Dark Mirror by M.J. Putney
Lady Victoria Mansfield wakes up one morning to discover she has magic. Magic's been outlawed. When an unfortunate incident makes it impossible for Tory to keep her magic hidden, she's exiled to Lackland Abbey – a reform school. While the school's main purpose it to suppress magic, a secret group of students and teachers meet in the underground tunnels to practice magic. During one of these sessions, Tory uncovers a silver mirror which transports her to the World War II era, where magic would be greatly appreciated.
Education of Bet by Lauren Baratz-Logsted
Bet would love more education while her childhood friend would rather pursue a military career. They come up with a plan where Bet takes his place in school, leaving him free to pursue his dream. While Bet's excited at the idea of academics, she doesn't take other considerations into account. She's forced to hide her identity (breasts, menstruation, and dressing) from the other boys, including her roommate.
Case of the Missing Marquess by Nancy Springer
When Enola's mother disappears, she's left in the care of her two brothers – both want to send her to boarding school. Enola has no desire to attend school, so she uses techniques her mother showed her to disguise herself as a grieving widow. Making her way to London, she comes across a missing persons case. Believing she can help, she involves herself, making this case her first as she sets up her own business, not unlike her brother – Sherlock Holmes.
In the Shadows of the Lamp by Susanne Dunlap
Molly's been unfairly dismissed from her maid's position. She has nowhere to go, until she hears about a nursing opportunity. She doesn't have much experience, though, and thus she's rejected from the girls and women picked for Miss Nightingale's staff. But Molly's determined to make it and sneaks onto the ship with the rest of the group. She helps take care of many of the women who become seasick, thus finally earning her place among the nursing staff. Although the work is tough and the conditions even harder, Molly knows that she's making a difference.
The Season by Sarah MacLean
Alexandra's not excited for her debut season in London – she might be if she could find a suitor who accepts her intelligence. She's willing to give it a go with her two best friends. When a family friend comes to visit after the death of his father, Alexandra becomes convinced that his father was murdered and he's in danger.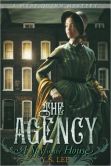 A Spy in the House by Y.S. Lee
As an orphan, Mary had the good fortune to be rescued from the gallows and educated. Now that she's ready to leave the school, she's called in for a meeting where she's informed the school has a secondary purpose. They're also a spy agency and they want to recruit her. After training, she accepts her first assignment. She's placed in a wealthy merchant's house as a lady's maid while secretly searching the place for incriminating smuggling papers. Can Mary carry out her first assignment?
Victoria Rebels by Carolyn Meyer
Princess Victoria's mother treats her like a baby. She wants the young princess to relinquish control to an ambitious counselor, John Conroy. Victoria despises the man and refuses, creating a difficult relationship between her mother and herself. Princess Victoria longs for the day when she will rule and have control over her own life.
Wrapped by Jennifer Bradbury
Agnes has no desire to marry a wealthy gentleman and conform to society. Instead, she'd rather be an Egyptologist. At a party for unwrapping a mummy, Agnes uncovers a clue – which she steals. When a man follows her and turns up dead later, she searches for answers.
1900s
Major Events Include: Titanic sinks, WWI, WWII, Women earn the vote, women can graduate from Oxford University, Beatles, Margaret Thatcher becomes the first female Prime Minister, and Princess Diana dies
Books in this time period include:
Code Name Verity by Elizabeth Wein (2013 Printz Honor)
Two best friends fly over occupied France in October of 1943. The plane crashes. One girl is captured by the Nazis. They're giving her a choice: reveal her mission or be executed.
~ Jennifer Rummel, currently reading The Ring and the Crown by Melissa de la Cruz