It's National Library Week – the perfect time to celebrate libraries. I'm always paying attention to libraries and how they're portrayed in pop culture.
Here are a few of my favorites libraries from books: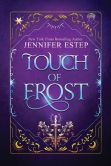 Mythos Academy series by Jennifer Estep
This private school library is the largest (and coolest) building on campus. Not only are there statues of gods and goddess inside the building, but there are two statues of gryphons guarding the door. Plus, the library's home to ancient artifacts – weapons, jewelry, and more. Not to mention the impressive book collection. At first, Nickamedes seems to be your stereotypical librarian, but there's more to him than meets the eye. This is a library I'd love to spend hours exploring.
Grimm Legacy by Polly Shulman (2012 Popular Paperbacks for Young Adults)
Elizabeth's lonely at school, so she finds a job at the New York Circulation Material Repository, hoping to make friends.  This library does not circulate books– instead, it circulates items of historical and magical significance.  The Brothers Grimm have their own room filled with items from their tales. I'm not sure which item to borrow first…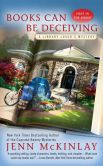 Library Lover's Mystery series by Jenn McKinlay
In a small Connecticut town by the shore resides Briar Creek Library. Lindsey, the new director, works to update the library. I love how she recognizes people in town and immediately thinks of their favorite authors. Beth, the Children's Librarian, is perfect. She loves dressing up in costume and makes story hour come alive. I would enjoy the crafternoon program – a weekly book club and craft afternoon.
Escape from Mr. Lemoncello's Library by Chris Grabenstein
In this middle grade read, public library was torn down twelve years ago, and a generation of kids haven't had the good fortune of a library– until now. Famous game designer Mr. Lemoncello builds a state of the art library building that sounds amazing – picture a Willy Wonka type library complete with the latest and most innovative technology and floor to ceiling bookshelves . I wouldn't mind being stuck overnight here.
What are some of your favorite libraries in books?
-Jennifer Rummel Currently Reading Being Sloan Jacobs by Lauren Morrill