It's that time of year again– pull up a chair and get ready for football. Football season started already. If you can't get enough football, here are some books for you. Of course, there are more football books than those below, so add your favorites in the comments.
The Bridge from Me to You by Lisa Schroeder
Lauren's new to town and she's trying to put her past behind her and move on. Colby lives in the same small town, but has visions of escaping somewhere where he isn't known for his football skills.  Can the two of the find a way to belong in this small town?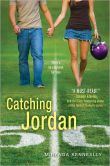 Catching Jordan by Miranda Kenneally
Jordan's the quarterback for her high school football team. She's awesome at her job, loves being in charge of the team and being one of the guys. When another QB comes to town, could her position be on the line?
Dairy Queen by Catherine Gilbert Murdock ( 2008 Popular Paperbacks for Young Adults)
DJ's brothers were both amazing at football; she's not so bad at playing either. Working on the family farm comes first and it's a struggle to survive after her father's injured. When the QB from the high school's rival team comes to help out, DJ starts opening up more. As they become friends, it occurs to DJ that if she tries out for the high school team, they could be sports enemies.
Football Genius by Tim Green
Troy has a gift of knowing the next play on the field – he only wishes someone would give him a chance to use it. He's tired of being the best QB but sitting the bench because the coach favors his son. Then his mom gets a job with the Atlanta Falcons. His favorite NFL team started the year off strong, but have been losing lately.  Troy can see the plays on the field before they happen. Troy thinks he could help the Falcons win – if only they would listen. Can he convince anyone to give him a chance?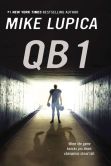 QB1 by Mike Lupica
Jake's always lived in his brother's shadow. Being a QB runs in the family – like father, like sons. As Jake begins his freshman year of high school, he knows he's not the team's first string quarterback. When the senior QB goes down in the first game, out for the season, Jake and Casey must battle for the top spot. Jake knows that he has the mental game, but his throws don't always pack the heat. Casey has a heck of an arm, but he also has a way of telegraphing his passes. Can Jake up his game enough to make the top spot and finally get out from his brother's shadow?
Nonfiction:
Big Book of Who: Football by the editors of Sports Illustrated Kids
Broken into sections of champions, personalities, record breakers, super scorers, and yardage kings this book gives you 101 players that super fans need to know. Fast facts and super stats accompany the page spreads along with tons of great action pictures.

Football: Then to Wow by the editors of Sports Illustrated Kids
This book is perfect for fans of football. It shows the history of the game from uniforms to coaching style to stadiums to rule changes. Lots of great information about how the sport has evolved since 1869.
~ Jennifer Rummel, currently reading Love, Lucy by April Linder