Last year, I created a post with some of my favorite cozy mysteries with teen appeal. It's a fact; I love cozy mysteries. I love the relationships in cozy mysteries as many of them are set in small towns or close-knit communities. Everyone seems to know everyone else. Plus, most cozies are part of a series, so once a year you get to hang out with old friends.
If You Want to Own a Store:
Secondhand Spirits by Juliet Blackwell
Lily's a witch who's been on the run, hiding her true self from the world. Now she's ready to settle down. She opens a vintage clothing store in San Fransisco and feels at home. Upon visiting a client, she learns about a local legend. When that client dies the next day, Lily wonders if the legend could be real. Can she help without exposing her secret?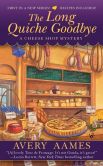 The Long Quiche Goodbye by Avery Aames
Charlotte and her cousin open a wine and cheese store. During the grand re-opening, a murder occurs right outside. When the police identify Charlotte's grandmother as the chief suspect, she starts her own investigation.
Mum's the Word by Kate Collins
Abby Knight is not having a good day, even though she's trying to be cheerful. Someone hits her corvette and takes off. Abby's determined to track down the owner and make him pay, until she realizes that the person driving off might have committed a murder. Going after him seems like a deadly plan, but what if he comes after her?
If You Like Cooking: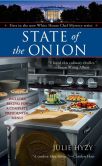 State of the Onion by Julie Hyzy
White House Assistant Chef Olivia Paras wants to land the  job of her dreams – Executive Chef after her boss and friend retires. When she spies a man out of place in the White House, she takes action. Now she's the only person to see the assassin, the Chameleon, and he's not happy about it.
Clammed Up by Barbara Moss
Julia came home to small town Maine to rescue the family business. Unfortunately, a man's murdered on the island where they host their clam bakes. Now, Julia needs the  murder solved ASAP or the business will be turned over to the bank. Can she solve a murder and save her business?
An Appetite for Murder by Lucy Burdette
Hayley dreams of becoming a food critic. When she applies for a job at a Key West magazine, she realizes that her would be boss is the woman she caught with her boyfriend. Crossing that job off her list, Hayley's stunned to learn that Kristen's been poisoned by a Key Lime Pie and she's the chief suspect in the murder.
If  You Have a Sweet Tooth:
All Fudged Up by Nancy Coco
Allie McMurphy inherited an old inn and fudge shop that's been in the family for generations. Although she's come to the island for the summers, she's still considered an outsider. When a body turns up in her hotel, an old family feud comes to light and the town starts taking sides. Can Allie help uncover the truth before the murder puts her out of business – for good?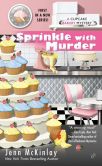 Sprinkle with Murder by Jenn McKinlay
Melanie and Angie just opened their own cupcake bakery. Super excited about this new business venture, they agree to cater a wedding. Unfortunately, the bride turns out to be a bridezilla. When Mel stumbles across the bride's body, she soon becomes involved in the case trying to clear her own name.
Bran New Death by Victoria Hamilton
Merry Wynter inherits a castle. Even though she can't afford to keep it, she's happy to have a place to escape to after a nightmare situation with her former boss. Someone's not happy that Merry owns the castle now and they're resorting to vandalizing her property. Before she can catch them in the act, a body turns up. There's no way Merry can sell the castle with a murder hanging over her head, so she starts investigating before she becomes the prime suspect.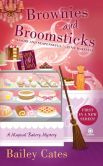 Brownies and Broomsticks by Bailey Cates
Katie's thrilled at the invitation to join her aunt and uncle at their new bakery, but she's more than a little surprised when her aunt adds extra ingredients to the recipes. These aren't your average indigents, but spells for their customers. When her uncle gets into a fight with a customer, who later turns up murdered outside the bakery, he's suspected of murder. Katie and her aunt work quickly to uncover the real culprit behind the murder -with a little magical help.
Cookie Dough or Die by Virginia Lowell
Olivia owns the Gingerbread House; a quaint shop specializing in cookie cutters and other baking tools. When a good friend dies and the sheriff declares her death a suicide, Olivia doesn't believe it. Sure her friend might have been acting strange lately, but she would never kill herself. Olivia starts poking around trying to under cover the truth about that night.
If You Love Bookstores/Libraries: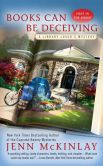 Books can be Deceiving by Jenn McKinlay
Lindsey's adjusting to life in a small town as the Director of the public library. When her best friend's boyfriend turns up dead, all eyes are on Beth. The couple had a huge fight about plagiarizing her children's book manuscript. Lindsey works hard to clear her friend's name and to bring fresh ideas into the library.
Murder in the Mystery Suite by Ellery Adams
To increase the number of bookings at the family run resort, Jane hosts a Murder and Mayhem week. It's all fun and games, until the winner of the scavenger hunt is found murdered in his suite and the prize stolen. To make matters worse, Jane finds out that the prize wasn't meant to be given out and the real item stolen is an invaluable artifact. Can she solve the murder quietly and regain possession of the family heirloom?
Murder is Binding by Lorna Barrett
Tricia Miles moved to Stoneham, New Hampshire where people were friendly until her mystery book store, Haven't Got a Clue, opened. Then someone murdered the local owner of the cook book store and Tricia discovers the body. Now, all eyes are on her and Tricia herself wants answers.
Hardcover in Homicide by Kate Carlisle
Brooklyn Wainwright finds her mentor covered in blood. When she tries to help him, his last words are cryptic to say the least. A security agent protecting the rare book he was working on seems to think her capable of murder. As she works to finish the restoration of the book, she attempts to uncover the truth about Abraham's murder.
~ Jennifer Rummel currently reading Bloom and Doom by Beverly Allen