The Teens' Top Ten is a "teen choice" list, where teens nominate and choose their favorite books of the previous year! Nominators are members of teen book groups in sixteen school and public libraries around the country. Nominations are posted on Celebrate Teen Literature Day, the Thursday of National Library Week, and teens across the country vote on their favorite titles each year.
The votes are in for 2014, and the winners have been announced– and we're featuring them here on The Hub. Today we bring you an interview with Emmy Laybourne, who is on this year's Teens' Top Ten list for Monument 14: Sky on Fire.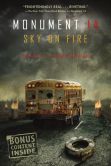 How does it feel to be chosen in the Teens Top 10?
It feels absolutely fantastic that Sky On Fire was chosen as a Teens Top 10. It's one thing to make it onto lists that booksellers put together, and entirely another to be put forward by teens themselves. Plus, check out the other names on the list! Holy smokes! Brandon Sanderson? Rick Yancey? Rainbow "my hero" Rowell?! I'm floored and honored beyond belief!
Do you think acting helped in your writing career?
Absolutely. It helped me to know how to create a character (and when you're writing a book with fourteen kids trapped in a superstore together – you are juggling a lot of them). Working as an actor also taught me a lot about taking care of myself so that I can do good work. For example, when I'm drafting a book I go to bed early, I eat three square meals a day (with plenty of protein), I get to my office at the same time each day. I treat myself well so that I can produce!
What's the best writing advice you can give to those during NaNoWriMo?
Don't judge! Yes, there's a time to take a step back and look at your work with a critical eye, but it ain't in the month of November! Put your foot on the gas and don't let up. Questions like, "Jeez, is this thing any good?" will completely derail you. Just write until you hit The End.
Is harder to write the first book or the sequel?
It's harder to write the first book. There's a lot of work to be done in establishing the world of the story, and the tone of the narrative voice you're going to use. Once you've figured these things out, it's easier to pick up where you leave off.
If you were forced to spend overnight in one store, what would it be?
I'd head immediately to the closest indie bookstore and settle in for a long, glorious night of books, books, books!
If you had to pick one natural disaster to be stuck in, which one would you choose?
Oof, this is a tough question. I like the drama of severe rainstorms, so I guess I'd say a hurricane, but I've seen firsthand the damage they can cause. Could I just say something like a sunshower or a rainbow attack?

Have you ever been in a survival situation- How did you handle it?
The closest I've come to a survival situation was when I was on a family ski trip and we got trapped in a blizzard in a rental car. Not very gritty, I know, but we did have to huddle together under a bunch of loose clothing and all we had to eat was a jar of kiddie vitamins…
What's up for you next?
Sweet, my new book, comes out in June. Sweet tells the story of two teens who meet on a star-studded luxury cruise to launch a new diet sweetener. Only when the sweetener turns out to be highly addictive, the teens must fight to get word to the mainland when the cruise goes comically, then tragically, then terrifyingly wrong.
I just want to say thanks again to the teens who voted for Sky on Fire. I'm writing for you, guys!
~ Jennifer Rummel Currently Reading The Cinderella Murder by Mary Higgins Clark and Alafair Burke