I'm a huge fan of the Marvel Universe, so I'm really excited to learn more about Agent Carter in the mini-series that premiers tonight. Here are some books I imagine might be on her nightstand should the occasion arise when she's in need of a good read. They are all about feisty heroines, just like herself. The Girl is Murder by Kathryn Miller Haines (2012 Readers' Choice List)
After her father lost his leg at Pearl Harbor, the Andersons had to move. Now he's a private investigator. His daughter, Iris, stumbles across his latest case and realizes that she could be of some help. Secretly, she attempts to gather clues on her own.
Code Name Verity by Elizabeth Wein (2013 Teens' Top Ten, 2014 Popular Paperbacks, 2013 Printz Honor Book)
A British spy plane crashes over Nazi territory in France leaving two girls in very grave danger.
Women Heroes of Word War II by Kathryn J. Atwood
Twenty six stories of espionage, sabotage, resistance, and rescue from women who all risked their life to help stop the Nazis. From a housewife to a law student to a radio operator in Europe and America, these women made a difference.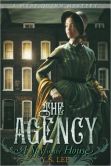 Spy in the House by Y.S. Lee
Mary Quinn's rescued from a life as a thief in Victorian England. Years later after schooling, she discovers that the school for young ladies is simply a cover for an all female spy agency. When she's asked to join, Mary agrees, eager for her first assignment. Posing as a lady's maid, she must search the house for proof of the missing cargo ships without getting caught. She'll need all her new skills to uncover the truth and get out alive.
Maid of Secrets by Jennifer McGowan
Meg Fellowes, great a picking pockets, steals from the wrong man. Now instead of touring with a theater group, she's given the choice between the dungeon or becoming a Maid of Honor (a spy for the young Queen Elizabeth). For her first assignment, she's given the job of observing the Spanish delegation – a job that her predecessor failed. Can Meg keep her head while discovering the truth?
At the House of the Magician by Mary Hooper
As a runaway, Lucy's future doesn't have many options. Her luck turns when she becomes maid in the house of John Dee. When she overhears an assassination plot against Queen Elizabeth, Lucy must warn the Queen.
~ Jennifer Rummel currently reading Glory O'Brien's History of the Future by A.S. King