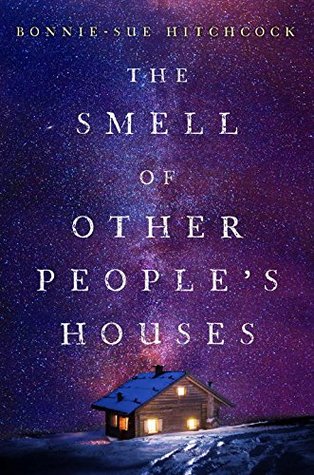 Bonnie-Sue Hitchcock is a finalist for the 2017 William C. Morris award. Her book, The Smell Of Other People's Houses, is told in four points of view of teens living in Alaska in the 1970s. Their individual stories weave together in a satisfying ending that will give readers a sense of another time and culture.
Your background is writing news for radio. How is your writing process different than when you wrote for news? The biggest difference is not having a daily deadline. Working on something for years rather than days is a totally different thing and I think it takes practice transitioning from one to the other. I still write though, as if each chapter is its own story and use a lot of the skills I used when writing a four minute radio piece. I miss interviewing people and using their own voices, which now feels like cheating after having to create characters out of thin air. (Although I did mine some of my past interviewees for personality traits for my characters.)
It feels like the four point of view characters each represent a different feel or culture of Alaska. What do you want the reader to learn from this? Yes, I think you're right about that. Alaska is a huge place and each region has its own feel, including differences in climate and culture, so it's difficult for any one book about Alaska to portray the entire state. I chose to focus on the places that I lived throughout my life and depict those places through the kinds of people I knew and had close experiences with. I've heard so many different takeaways from readers about what they got (or didn't get) from this way of telling the story. I just wanted to show how hard it is to generalize the Alaska way of life. Alaska is many things to many people and all of it is true.
How did the idea of smell and association become such a prominent theme to the book? Was this always the idea or did it evolve? It totally evolved. I wasn't even going in that direction until a friend and I wrote together and she came up with the idea for the title. After that, it just kept popping up.
Where did you get the idea for Crazy Dancing Guy? Oh, thank you for asking! I love him and he is based on someone that actually did dance on the street corner every single morning. One day while I was working as a reporter we decided to interview him and ask why he did that. He said, "I just think it makes people feel good when they're driving to work. It makes people happy." He did that for so many years that when he died, there was a huge tribute to him. I never forgot him, so was happy to give him a street corner in my story as well.
Where did the story about the red slip come from? I'm not even sure where that came from. I guess that bit was total fiction. The original story collection was all going to center around a red rubber band and show how one insignificant thing can often connect people. The rubber band became a red ribbon and I guess I just needed a point of origin for the ribbon. So many things did not just miraculously appear, but are a result of many many re-writes, which I think is how writing is supposed to work.
What do you want readers to take away from the experience of this book? If someone isn't familiar with Alaska I hope they might realize that no matter where we live, we all desperately want to feel that we are safe and loved and that we have something in life to look forward to. For Alaskans, I hope it will resonate and feel authentic.
Who are the authors that influence you? Young Adult authors that I particularly like are Margo Lanagan and A.S. King. I love short stories by Alice Munro and Maile Meloy. But I love the classics and am a huge fan of Tolstoy and Virginia Woolf as well.
What is your next project? Something that is NOT set in Alaska, with a little magical realism thrown in.
What are some of your favorite reads of the past year? I loved Denton Little's Deathdate by Lance Rubin, The Square Root of Summer by Harriet Reuter Hapgood, When the World Was Ours by Anna-Marie McLemore, Riverkeep by Martin Stewart and The Darkest Corners by Kara Thomas, just to name a few. There are SO MANY!
Kris Hickey is currently reading 18 And Life On Skid Row by Sebastian Bach.