Click here to see all of the current Amazing Audiobooks nominees along with more information about the list and past years' selections.
Caster by Elise Chapman; narrated by Emily Woo Zeller
Scholastic Audio
Release date: September 3, 2019
ISBN: 9781338567793
Aza Wu knows magic can go wrong.  Her sister Shire died from casting.  But in her neighborhood, you can only operate if you pay the right people, and to get money, she can sell her magic on the black market.  So she casts, living on the edge and hoping her next spell isn't her last.  The opportunity to cast in an underground tournament with big payouts is irresistible.  Fighting in the tournament may be her salvation, or may be the death of her.
A dark novel of desperation, with a kick-ass Asian girl who fiercely loves her family in the lead, Caster leads the listener through the dark corners of Lotusland. Zeller's narration gives an authentic sound to the voices and keeps the intense feel of the story flowing throughout.
For fans of magic and dystopias, Caster is a sure bet. Those who liked the Hunger Games, Westerfeld's Uglies, Ness's Chaos Walking series, or Aveyard's Red Queen series, will find a similar feel here.
-Cathy Outten
Jane Against the World: Roe v. Wade and the Fight for Reproductive Rights
by Karen Blumenthal; narrated by Maggi-Meg Reed
Listening Library
Publication Date: February 25, 2020
ISBN: 9781626721654
A historical look at the history, court cases, and individual circumstances that lead to the Supreme Court decision of Roe vs Wade. Blumenthal explains the buildup to the well-known case and assesses the repercussion since. It acknowledges the disparities for women of color and lower socio-economic backgrounds, and doesn't gloss over sordid history and practices, such as shady abortions, forced sterilizations, or birth control evangelist Margaret Sanger's belief in eugenics.
Reed's engaging narration well-matches Blumenthal's clear, accessible language, as both are lively in this engrossing narrative. Reed flows seamlessly from the prologue through the epilogue that notes the many ways in which reproductive rights continue to be vigorously contested, and the "Pregnant Pauses" of sidebar information give more context.
This will be a great companion to novels like Sharon Biggs Waller's Girls on the Verge and Jenni Hendriks and Ted Caplan's Unpregnant (soon to be a movie on HBO Max) that both deal with reproductive rights, as well as other nonfiction like Robin Stevenson's My Body, My Choice: The Fight for Abortion Rights.
–Danielle Jones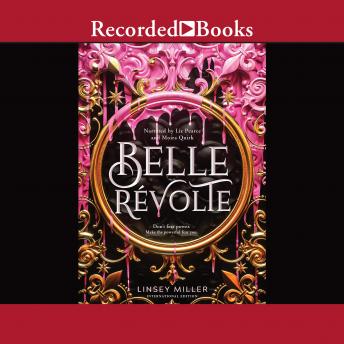 Belle Révolte by Linsey Miller; narrated by Moira Quirk and Liz Pearce
Recorded Books Audio
Publication Date: February 4, 2020
ISBN: 9781980063315
Emilie de Morais desperately wants to serve her country as a physician but females are not allowed to practice the noon-day arts, as they are called in her country. The best she can be offered is to be a physician's assistant, something her noble mother would never allow for her only daughter. Annette Boucher is a humble peasant girl who longs to study magic – so when a strange noble offers her the chance to attend finishing school in her place she jumps at the chance. When their nation instigates a war with neighboring Kalthorne Annette and Emilie, along with their friends and allies, must come together to assist the revolution and expose the terrible crimes the crown has committed.
All of the characters are well-rounded, and many of them range from trans to non-binary to ace. The magic system could be somewhat convoluted at times, but the discussion of a contrived gender binary and divide within the magic is timely and will be of interest to many youth. Both Quirk and Pearce portray the emotions of their respective characters and their voices compliment each other perfectly.
Listeners who enjoy science fiction and fantasy titles with LGBTQ themes and characters such as Cemetery Boys by Aiden Thomas, Spellhacker by M.K. England, and The Extraordinaries by T.J. Klune will enjoy this standalone title.
–Candace Fox