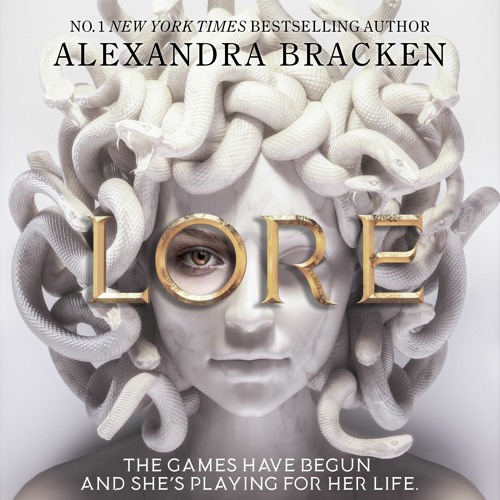 Lore by Alexandra Bracken; narrated by Fryda Wolff
Disney Hyperion
Publication Date: January 6,  2021
ISBN: 978-1368075107
Lore, or Melora Perseous, is a fighter who knows she is destined for greatness despite her family's ignominious reputation. She has steadfastly avoided the bloodbath of the Agon, a punishment of nine Greek gods that dooms them to be hunted by the Greek families and killed for their power. That stubborn resistance to becoming a hunter is tested when Castor, her childhood friend and beloved companion, returns–seemingly from the dead as a new deity. Her resolve is further tested when Athena shows up on Lore's doorstep with a mortal wound, a vendetta, and a way to bind Lore through oath to keep Athena safe.
Alexandra Bracken has created a complex take on Greek mythology and challenges some of the patriarchal deities with nuanced interpretations of the women's roles. Fryda Wolff undertakes a Herculean task in narrating this epic undertaking that is so carefully detailed a PDF table of the characters is included.  Wolff's distinct rhythm of speaking quickly draws listeners in and adds texture to an already fabulous plot and cast of characters.
Reminiscent of Neil Gaiman's American Gods in violence and tone, though without some of the more adult encounters, this is a book that will be popular with fans of fantasy based in Greek mythology with action like that found in Django Wexler's Ship of Smoke and Steel duology.
– Jodi Kruse
Other Nominated Titles
The Map of Tiny Perfect Things by Lev Grossman; narrated by Michael Crouch (February 4, 2021)
---
The Selected Lists teams read throughout the year in search of the best titles published in their respective categories. Once a book is suggested (either internally or through the title suggestion form), it must pass through a review process to be designated an official nomination.
Each week, the teams feature a review of one of the officially nominated titles. Additional titles to receive this designation are listed as well. At year's end, the team will curate a final list from all nominated titles and select a Top Ten. The previous years' lists are available on The Hub.