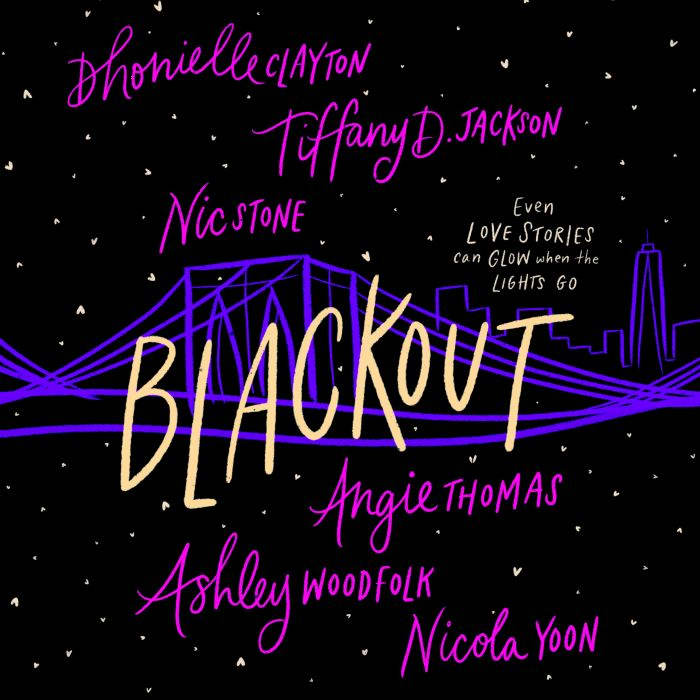 Blackout by Dhonielle Clayton, Tiffany D. Jackson, Nic Stone, Angie Thomas, Ashley Woodfolk, and Nicola Yoon; narrated by Joniece Abbott-Pratt, A.J. Beckles, Jordan Cobb, Dion Graham, Imani Parks, Shayna Small, and Bahni Turpin
Quill Tree Books
Publication date: June 22, 2021
ISBN: 9780063088122
Blackout subtly weaves six unique novellas featuring Black characters by six Black authors into one connected story in New York City during a summer blackout. Tiffany D. Jackson's story focuses on exes Tammie and Kareem who run into each other at the same summer internship opportunity. Nic Stone's contribution is a queer male/male love story about Tremaine and JJ. Ashley Woodfolk tells a cute sapphic romance between Joss and Nella that takes place at a senior living facility. Dhonielle Clayton tackles a friends-to-lovers romance in the New York Public Library. Angie Thomas tells of a love triangle with some emotional baggage. Nicola Yoon's meet cute of Seymour and Grace is a heartwarming end to this high-interest book about Black Love.
The audiobook narration is done by some of the who's who in YA audiobooks. All narrators are excellent and fit their stories well, though Joniece Abbott-Pratt, Dion Graham, and Imani Parks definitely shine. This is a great audiobook for hesitant older teen readers as the varied narrators can renew interest throughout the book.
Recommend Blackout to readers who enjoyed Off the Record by Camryn Garrett, Leah Johnson's Rise to the Sun, Meet Cute Diary by Emery Lee, and Odd One Out by Nic Stone.
—Christine Pyles
Other Nominated Title
Rise to the Sun by Leah Johnson; narrated by Lexi Underwood and Alaska Jackson (July 6, 2021)
---
The Selected Lists teams read throughout the year in search of the best titles published in their respective categories. Once a book is suggested (either internally or through the title suggestion form), it must pass through a review process to be designated an official nomination.
Each week, the teams feature a review of one of the officially nominated titles. Additional titles to receive this designation are listed as well. At year's end, the team will curate a final list from all nominated titles and select a Top Ten. The previous years' lists are available on The Hub.