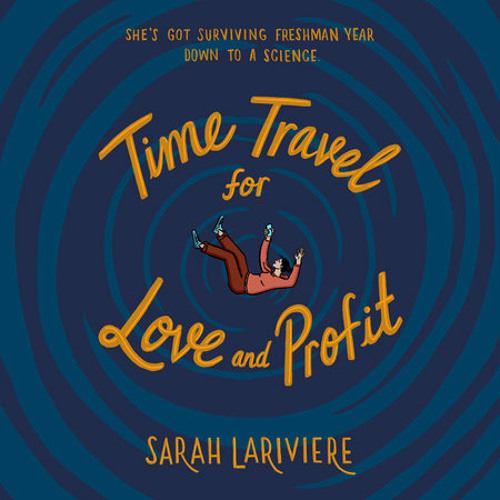 Time Travel for Love and Profit by Sarah Lariviere; Narrated by Kristen Sieh
Listening Library
Release date: January 26, 2021
ISBN: 9780593294017
Nephele distinctly remembers when her best friend broke up with her. It isn't surprising, given that Nephele's peers describe her as "aggressively weird." After all, Nephele has favorite math formulas and shapes. Couple that with the furry arm hair of her ancestors, and Nephele is an outsider looking in. That's why the book Time Travel for Love and Profit so captures her imagination and inspires her to create an app that will allow her to go back in time and re-do her disastrous freshman year.
Invoking the Groundhog Day trope is a challenge. Lariviere does an excellent job of creating a quirky, brilliant character that listeners can appreciate (if not, relate to). The science is fun, the idea of an app as the vehicle for time travel is unique, and the supporting characters are fabulous–even Dirk Angus, the app–has personality. Jazz, on Nephele's final time loop, is as delightfully quirky and heartwarming as Nephele herself. Kristen Sieh deftly brings each character to life in a performance that elevates an already heartwarming story.
Readers who love socially awkward characters will also enjoy the Once Upon a Con series by Ashley Poston while those who are drawn to potentially doomed love stories will appreciate the older–but still great–Everything, Everything by Nicola Yoon or The Fault in Our Stars by John Green.
– Jodi Kruse
Other Nominated Titles
Fifteen Hundred Miles from the Sun by Jonny Garza Villa; narrated by Avi Roque (June 8, 2021)
---
The Selected Lists teams read throughout the year in search of the best titles published in their respective categories. Once a book is suggested (either internally or through the title suggestion form), it must pass through a review process to be designated an official nomination.
Each week, the teams feature a review of one of the officially nominated titles. Additional titles to receive this designation are listed as well. At year's end, the team will curate a final list from all nominated titles and select a Top Ten. The previous years' lists are available on The Hub.