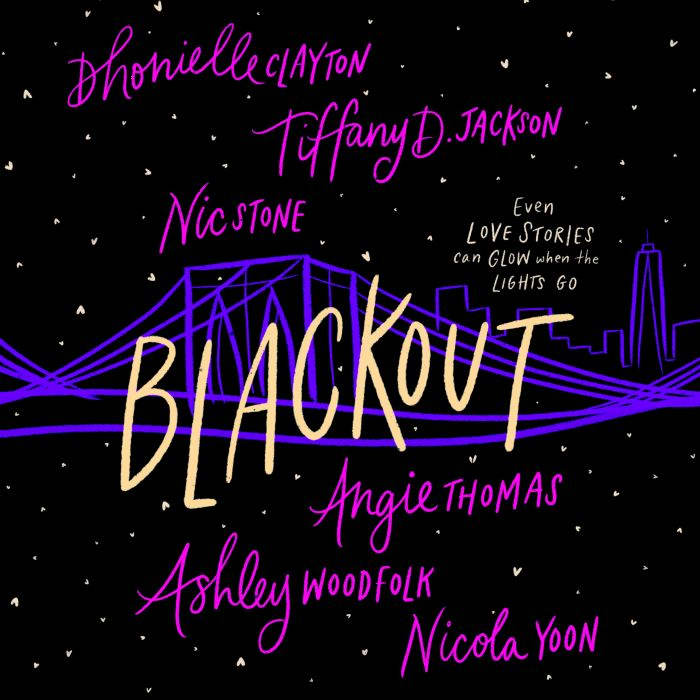 Blackout by Dhonielle Clayton, Tiffany D. Jackson, Nic Stone, Angie Thomas, Ashley Woodfolk, and Nicola Yoon; narrated by Joniece Abbott-Pratt, A.J. Beckles, Jordan Cobb, Dion Graham, Imani Parks, Shayna Small, and Bahni Turpin
Quill Tree Books
Publication date: June 22, 2021
ISBN: 9780063088122
Blackout subtly weaves six unique novellas featuring Black characters by six Black authors into one connected story in New York City during a summer blackout. Tiffany D. Jackson's story focuses on exes Tammie and Kareem who run into each other at the same summer internship opportunity. Nic Stone's contribution is a queer male/male love story about Tremaine and JJ. Ashley Woodfolk tells a cute sapphic romance between Joss and Nella that takes place at a senior living facility. Dhonielle Clayton tackles a friends-to-lovers romance in the New York Public Library. Angie Thomas tells of a love triangle with some emotional baggage. Nicola Yoon's meet cute of Seymour and Grace is a heartwarming end to this high-interest book about Black Love.
Continue reading

Amazing Audiobooks (#AA2022) Featured Review of Blackout by Dhonielle Clayton and others