With a new movie of Cinderella coming out, it's a great time to round up some book adaptations.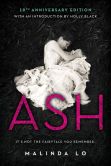 Ash by Malinda Lo (2010 Morris finalist and 2014 Popular Paperbacks for YA Top Ten)
Ash lost both her mother and her father. Now she's stuck in a world with an evil step mother and two wicked step-sisters. She finds solace in the fairy world and with her new friendship with the King's Huntress. Can she find happiness on her own terms?
Before Midnight by Cameron Dokey
Cendrillon's mother dies in childbirth. The death of her mother forces her father to abandon her, leaving her to the care of the housekeeper. Her father remarries and sends his wife and two daughters back to the cottage, without telling her about his daughter. Everything changes once the truth comes out.