I love the twang of country music, the songs about trucks, independence, and falling in love. I think I fell in love with country music because most of the songs seem to tell a story, and being a bookish nerd, I loved that.
Here's a video from Trace Atkins explaining why he sings Country in Songs About Me.
July 4th was National County Music Day and in celebration, I've created a list of YA books featuring country music.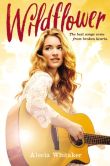 Wildflower by Alicia Whitaker
Bird's family play together with her Dad as the front man, but when he's sick, he asks Bird to step in a lead the band. At first, Bird's nervous, but then she finds her groove and starts to shine in the spotlight. There's a talent scout in the crowd and he requests a meeting with her father.  Everyone's excited about the possibility of being signed – but it turns out he just wants Bird. It's too good of an opportunity for her to pass up, but is she ready for the hard work and fame?
Somebody Everybody Listens To by Suzanne Supplee (2011 Best Fiction for Young Adults)
Retta Lee Jones takes the advice from her best friend and, after high school graduation, leaves her small town behind in hopes of making it in Nashville. After a string of bad luck, she meets a friend who helps her out. Can she survive and strike it big?