March is Women's History Month, celebrated worldwide. In Britain, the Great Reform Act of 1832 excluded all women from voting by specifically changing the word person to male. In 1918, women started to regain voting privileges but it wasn't until 1928 that women over the age of 21 had the same voting rights as men. As a tribute and celebration to all the previous women who have challenged rules, broken rules, and changed the world, here's a list of books throughout Great Britain's history from a woman's perspective.
Ancient Days: (0-1066)
Major Events Include: Rome invades Britain, Rome conquers Wales, Boudica leads rebellion against the Romans, Hadrian's Wall is constructed, Rome withdraws, Anglo and the Saxons arrive looking for a fight, Vikings attack, and the Battle of Hastings occurs.
Books in this time period include:
The Edge on the Sword by Rebecca Tingle (2002 Best Books for Young Adults)
Princess Aethelflaed finds herself reluctantly betrothed to an ally of her father's, in hope that their marriage will bring peace to the land. Betrothed isn't the same as married, and when enemies attack, Aethelflaed will have to stand her ground.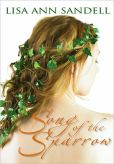 Song of the Sparrow by Lisa Ann Sandell
Elaine of Ascolat, the Lady of Shalott lives with her family in the camps of King Arthur. As the only girl, she finds herself lonely, until Gwynivere arrives. Unfortunately, Gwynivere isn't the type of companion Elaine's been hoping for. Written in a novel in verse, Elaine shares her view of the world of King Arthur.
Middle Ages (1067-1485)
Major Events Include: Oxford University founded, Richard the Lion-hearted enters the Third Crusade, Prince John Signs the Magna Carta, Wales becomes part of Great Britain, Execution of William Wallace, Great European Famine, Hundred Years War, Black Death, and The War of the Roses
Books in this time period include:
Hawksmaid by Kathryn Lasky
Maid Marian (Matty) is the daughter a famous falconer. Matty has her father's gift with the birds and hopes her future lies with them. When King Richard is captured and his brother rises to power, everything changes. She does her best to help Robin Hood (her childhood friend) make sure everyone survives.
Scarlet by A.C. Gaughen
Scarlet keeps her female identity hidden from everyone in Nottinghamshire, except Robin and his friends. When the Sheriff tries to capture the band, she'll do anything to save her friends.  Continue reading British Women's History in YA Lit