It's National Library Week – the perfect time to celebrate libraries. I'm always paying attention to libraries and how they're portrayed in pop culture.
Here are a few of my favorites libraries from books: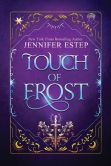 Mythos Academy series by Jennifer Estep
This private school library is the largest (and coolest) building on campus. Not only are there statues of gods and goddess inside the building, but there are two statues of gryphons guarding the door. Plus, the library's home to ancient artifacts – weapons, jewelry, and more. Not to mention the impressive book collection. At first, Nickamedes seems to be your stereotypical librarian, but there's more to him than meets the eye. This is a library I'd love to spend hours exploring.
Grimm Legacy by Polly Shulman (2012 Popular Paperbacks for Young Adults)
Elizabeth's lonely at school, so she finds a job at the New York Circulation Material Repository, hoping to make friends.  This library does not circulate books– instead, it circulates items of historical and magical significance.  The Brothers Grimm have their own room filled with items from their tales. I'm not sure which item to borrow first… Continue reading National Library Week: Libraries in Books