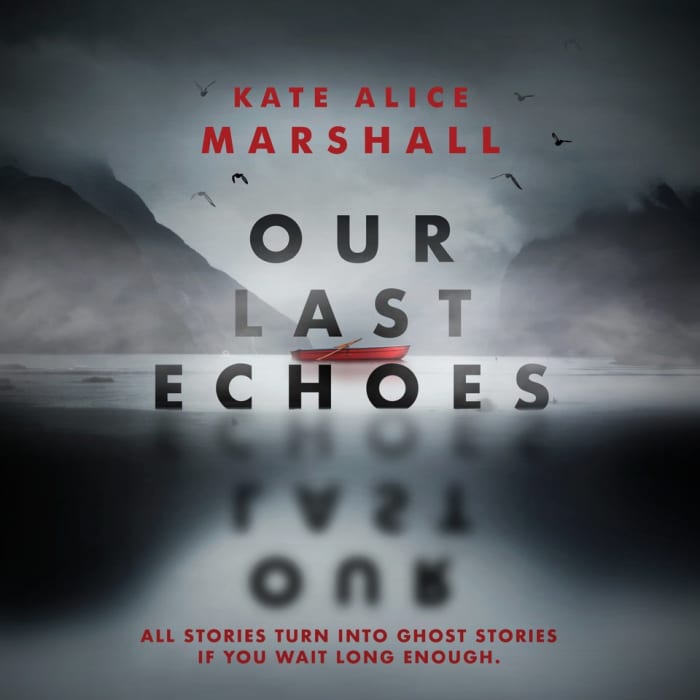 Our Last Echoes by Kate Alice Marshall; narrated by Kathleen McInerney, Robbie Daymond and Rob Shapiro
Listening Library
Publication Date: March 16, 2021
ISBN: 9780593340806
Bitter Rock has a long history of disappearances. In 2003, Sophia's mother vanished and now years later, Sophia returns to discover the truth about what happened to her. Not everything is not as it seems. There is just something a little off, not quite right about Bitter Rock. The horrifying truth will have dire consequences for Sophia and the friends she meets on the island.
This horror novel weaves the supernatural with the psychological and forces the listener to ask, how well do we know our friends, our family? Can we trust what we see with our own eyes? This was deliciously creepy and Marshall did a great job of keeping the pace and the multiple narrators provided depth that provoked fear and sympathy for the characters.
Readers who enjoyed Marshall's Rules for Vanishing, will be pleasantly surprised to see some minor characters featured more prominently in Our Last Echoes. However, one does not have to read one to enjoy the other. And for more island monsters, try Sawkill Girls by Claire Legrand.
–Lorrie Roussin
Other Nominated Titles
My Contrary Mary by Cynthia Hand, Brodi Ashton, and Jodi Meadows; narrated by Fiona Hardingham (June 22, 2021)
The Witch King (The Witch King Duology) by H.E. Edgmon; narrated by Dani Martineck (June 1, 2021)
Dancing at the Pity Party: A Dead Mom's Graphic Memoir by Tyler Feder; narrated by Amanda Dolan (March 30, 2021)
Pumpkin (Dumplin') by Julie Murphy; narrated by Chad Burris (May 25, 2021)
Hani and Ishu's Guide to Fake Dating by Adiba Jaigirdar; narrated by Reena Dutt and Shubhangi Karmakar (May 25, 2021)
---
The Selected Lists teams read throughout the year in search of the best titles published in their respective categories. Once a book is suggested (either internally or through the title suggestion form), it must pass through a review process to be designated an official nomination.
Each week, the teams feature a review of one of the officially nominated titles. Additional titles to receive this designation are listed as well. At year's end, the team will curate a final list from all nominated titles and select a Top Ten. The previous years' lists are available on The Hub.