It's that time of year again– pull up a chair and get ready for football. Football season started already. If you can't get enough football, here are some books for you. Of course, there are more football books than those below, so add your favorites in the comments.
The Bridge from Me to You by Lisa Schroeder
Lauren's new to town and she's trying to put her past behind her and move on. Colby lives in the same small town, but has visions of escaping somewhere where he isn't known for his football skills.  Can the two of the find a way to belong in this small town?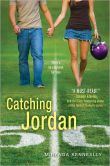 Catching Jordan by Miranda Kenneally
Jordan's the quarterback for her high school football team. She's awesome at her job, loves being in charge of the team and being one of the guys. When another QB comes to town, could her position be on the line? Continue reading Are You Ready for Some Football?