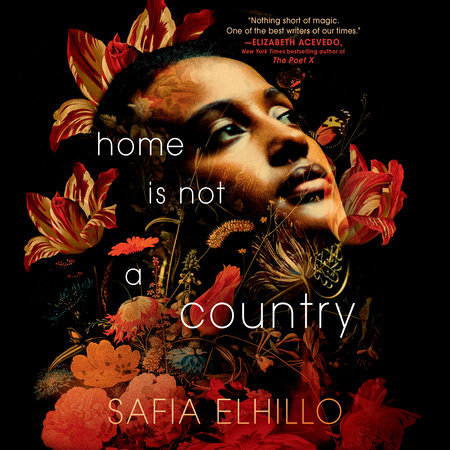 Home is Not a Country by Safia Elhillo; narrated by Safia Elhillo
Penguin Random House Audio Publishing Group / Listening Library
Publication Date: March 2, 2021
ISBN: 9780593343715
Nima, feeling like an outsider trying to be part of her mother's culture, misses the father who died before she was born and begins to resent her mother. When her childhood friend Haitham is jumped and hospitalized, Nima turns inward to see who she could have been in her homeland and with a father. Nima discovers something about her father that changes her entire life.
Safia Elhillo does an excellent job with the narration which clearly demonstrates what a passion project this book was. Though a short book, the plot twists will hook readers and teen readers will stick around to absorb the engaging subtext. The Arabic words, phrases, and lyrics are beautiful and Elhillo's accent and pace are just lovely at the default eAudiobook speed.
Lyrically beautiful, Home is Not a Country is a story of identity akin to Still Life with Tornado by A.S. King and Black Girl Unlimited by Echo Brown. Teen readers who enjoyed the audiobook of current #AA2022 nominee Chlorine Sky by Mahogany L. Browne will also enjoy this audiobook.
–Christine Pyles
Other Nominated Titles:
She's Too Pretty to Burn by Wendy Heard; narrated by Frankie Corzo, Bailey Carr, & Stephen Dexter (March 30, 2021)
Hold Back the Tide by Melinda Salisbury; narrated by Elle Newlands (January 26, 2021)
---
The Selected Lists teams read throughout the year in search of the best titles published in their respective categories. Once a book is suggested (either internally or through the title suggestion form), it must pass through a review process to be designated an official nomination.
Each week, the teams feature a review of one of the officially nominated titles. Additional titles to receive this designation are listed as well. At year's end, the team will curate a final list from all nominated titles and select a Top Ten. The previous years' lists are available on The Hub.